Whilst it might not be as good as the Shop Small promo, there's a couple of new offers from American Express and foursquare. Most of them start in February, but there's a few that are good to go now.
It's the same deal as the last foursquare promo: you need to register an account with foursquare, sync your foursquare account with Amex, check in at the location using a mobile app (it doesn't seem to work on the Windows Phone app), and activate the offer by checking in and selecting the special, and tap "add to card". Additionally, you can use these in conjunction with any other offer, so long as the spend on your Amex is over the threshold.
Here's the deals that have been on so far. In my opinion, the best method of getting the most value is to get a gift card for the exact amount (e.g. £50), so you can spend your money in chunks, and you have a bit longer to spend your money! Make sure you read my top tips on gift vouchers if you're going down this route though.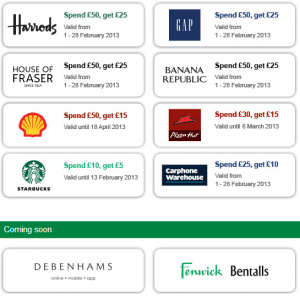 Spend £50 at Shell, get £15 back (until 18 Apr) – this is a great deal if you drive, since petrol is generally never discounted
Spend £30 at Pizza Hut, get £15 back (until 6 Mar)
Spend £10 at Starbucks, get £5 back (until 13 Feb)
Spend £25 at Carphone Warehouse*, get £10 back (1-28 Feb)

Spend £50 at Harrods, get £25 back (1-28 Feb)

Spend £50 at Gap, get £25 back (1-28 Feb)
Spend £50 at House of Fraser, get £25 back (1-28 Feb)
Spend £50 at Banana Republic, get £25 back (1-28 Feb)
* Special tip for Carphone Warehouse: Grab some topup cards for O2, then credit these towards your O2 PAYG sim. You get 5% bonus credit (going up to 10% after 6 months), and you can apply these towards your monthly bill if you transfer your PAYG phone over to contract.