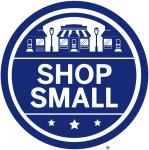 Shop Small is back for another year, starting today and running until 21st December. Like last year, you get £5 back when you spend £10, but unlike last time, there's no limit on the number of retailers you can go to.
There's a variety of shops, food stalls and pubs on the list, so I'd highly recommend you take a look, and make sure to register your card before you head out.
How it works
You need to register online with your card(s) before you shop.
Check out the list of eligible locations by popping in your postcode on the Amex Shop Small site. The map isn't very good, so I've made one for the City of London.
Spend £10 in store on your registered Amex.
You'll get an email confirming your purchase shortly (this will take longer if you're using ExpressPay contactless).
Tips to get the best value

You can use this offer in conjunction with any other offer, so long as the spend on your Amex is over the £10 threshold – e.g. Taste Card, Vouchers, etc.

Cards on the same account (supplementary cards) are eligible for the promotion in their own right, excluding MBNA, because they have the same account number.
The discount probably won't work if you try to use it in different branches of the same shop. To stay safe, use it only in one of the locations.
If you have multiple Amex cards (including cards issued by Barclaycard, Lloyds, TSB and MBNA – mostly frequent flyer rewards cards), each of these are treated separately. Make sure you register each one!
If you don't see the credit in a week or two, or the merchant doesn't take Amex, get in touch with customer services: call the number on the back of your card, or send an email using secure messaging: they were pretty good in getting the credit added manually last time. This also applies ifthe retailer doesn't accept Amex.