If you've ever had to call a company with a non geographic number, you might find that it gets a little pricey. Companies make a bit of cash by getting a portion of the call costs when you call in on an 0844 number, but even with freefone numbers, mobile networks still charge for the call (although this is planned to be changed in the future).
Here's some tips to save a bit of cash for those customer services lines:
Try seeing if there's an 'international number'
Since you can't generally call 08 numbers from outside the UK, most providers usually offer an 'international' UK geographic number for you to call when you're abroad.
Geographic numbers (01XX or 02XX) are included in the minutes you get as part of your mobile contract, so you won't pay the 25p – 35p charge.
Unfortunately some companies have gotten wind of this, and detect if you're in the UK. Withholding your number might work, but usually you're going to have to find a different route…
BT SmartTalk lets you use your landline everywhere

Remember the warning for most phonelines where they say something to the effect of 'mobiles may charge considerably more'? If you're calling directly from your landline, you'll usually end up paying a bit less.
Enter the new BT SmartTalk app: it works on Android and iOS devices. You can now use your landline anywhere you have an internet connection (preferably wifi, if you don't want to use up your data allowance), and it even works abroad, potentially saving you a bundle on roaming charges if you've got a wifi hotspot nearby.
I've tried it out, and it the call quality seems pretty good – I couldn't tell the difference from a normal landline call.
The great thing about using your landline is the inclusive 0845/0870 calls if you've got a BT calling plan and of course, freefone numbers are free rather than 10p – 30p, depending on your network.
You'll need to be at home to set it up: they phone you with a confirmation code on your landline, send you a text to confirm your mobile number and they'll post you a letter confirming the mobile has been added a few days later.
Changes from 1 July
From 1 July 2015, calls to 080 numbers are now free from mobiles, but 0500 numbers may still be chargable. You can get around those charges as follows:
Skype can call 0500 numbers for free
If you haven't got a BT landline, simply download the Skype app for your phone, and use SkypeOut to call. You don't need to top-up.
Usual caveats apply regarding data usage.
0800buster can get you free freefone calls from your mobile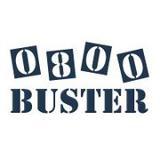 0500 numbers may be chargable, but you can dial 0333 555 8800 and you'll be prompted to enter the freefone number you want to call.
Saynoto0870 might help you find an alternative number
Saynoto0870 is a website which gives alternative geographic numbers: but this doesn't always work: sometimes you'll just get put through to a random person in the company, or you'll just get through to a recording that tells you to redial the original number.
It's worth a try though!
Summary:
Don't call 08X (apart from 080) numbers from your mobile. Use an alternate service.
| | Mobile call | 0800 buster | BT SmartTalk / Landline | Saynoto0870 |
| --- | --- | --- | --- | --- |
| 03XX | Yes | n/a | Yes (if included in your landline plan) | No |
| 0845 / 0870 | No | n/a | Yes (if included in your landline plan) | If available |
| 0808 / 0800 (freefone) | Yes | n/a | Yes | n/a |
| 0500 freefone | No | Yes | Yes | If available |
| Other 08XX | No | n/a | Yes (it's probably cheaper than your mobile) | If available |