If you live in London, you probably won't be using a car everyday – but for shorter journeys, I've found the best solution is to join a car sharing club.
It's environmentally friendly, and far cheaper than buying a car for yourself, especially if you aren't driving much.
How much do they cost?
Here's a quick overview of the prices of the different clubs:
| | Hertz on Demand | Zipcar | City Car Club | Car2Go |
| --- | --- | --- | --- | --- |
| Cheapest car cost per hour | £4.50 | £5 | £4.95 | £14.90 (35p/minute minimum) |
| Included mileage per trip | 20 | 40 | 0 | 17 |
| Cost per additional mile | 30p | 30p | 23p | 17p |
| Annual fee | £0 | £59.50 | £60 | £0 |
| Setup fee | £0 | £0 | £0 | £29.90 |
| Website | Hertz on Demand | Zipcar | City Car Club | Car2Go |
In general, most of the clubs are the same: Zipcar, Hertz, Car2Go and City Car Club all have parking, insurance, maintenance and fuel included in the hourly rental price, and Streetcar and Hertz also include congestion charge (as do City Car Club for cars parked in the zone).
Once you're actually driving, there's usually an element of included mileage per rental, and a charge per mile once you've gone over (this is a per rental allowance rather than an hourly allowance, which seemed a bit strange to me, since you can just return the car and take it out again to get more miles).
Hertz's cheapest car is electric. I've tried it, and it's a pretty quiet drive, to the point where a pedestrian walked into the road in front of me after failing to hear it. You get unlimited mileage with it, but I don't really think you can get too far…
What do I need to join one?
You'll usually need to have held a clean licence for a couple of years, depending on the company that you're using.
How do I use one?
For all the companies apart from Car2Go, there'll be a reserved parking spot where your car is parked: you need to reserve it in advance, and use your keyfob or card to open the car.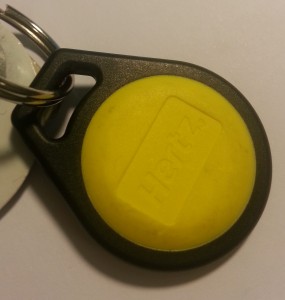 The keys will be in the car already – pop them in the ignition like normal, and away you go.
Usually, you'll have to return the car from where you got it, and you'll have to do it on time, so make sure you book the right amount of time at the start, as most companies will charge you extra if you're late.
If you're running out of fuel, there'll be a fuel card to charge it back to the hire company.
Once you're done, you usually need to end the rental from the in car device, leave the keys in the car, and lock it with your keyfob/card
Pay by the minute in home areas – Car2Go
Car2Go is a new concept in car sharing from Germany that works more like a Boris bike – once you've finished, you can park anywhere in a residents permit spot in the designated 'home areas', and you don't have to return it to where you picked it up. This has both advantages and disadvantages: you only pay for the amount you travel, but you also are at the mercy of other members parking them up near to you. Additionally, you can only reserve them 30 minutes in advance.
The cars are all smart cars, and they cost 35p per minute (up to a maximum of £59 per day) – whether you're driving or parked: this might sound a lot more expensive, but if you're travelling within a home area, you can just end the rental once you arrive, so you just pay for driving time. You also have a limit of 17 miles per trip before they become chargeable.
Unfortunately they're only located in small sections of London (around Angel and Islington, and around Stratford.
My recommendation
Join Hertz on Demand whatever you do – it's pretty much a no-brainer seeing as there's no setup or annual fee. It then depends on which car clubs have vehicles located nearest to you: you might have to end up paying an annual fee if there aren't any Hertz cars nearby.