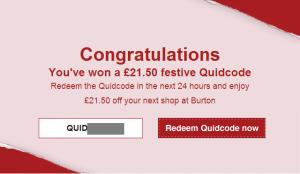 Quidco are currently doing a daily promotion where you can be awarded a "festive Quidcode", which gives you an additional bonus cashback on top of the current rates.
I've won £21.50 off Burton today, although everyone else I've spoken to who's tried it so far hasn't been successful yet… but there's still quite a few days to go in this promotion.
There isn't currently much info available on the Quidco site about it (doesn't seem to be mentioned in their blog), but keep clicking the button each day to enter the draw – you'll instantly find out if you've won. Edit: According to the Terms and Conditions, you can enter every day until the 12th.
Note that if you win, you've only got 24 hours to redeem your prize (you need to copy down your Quidcode and enter it onto the retailer's page, then click through to the retailers site), so make sure you act fast. You'll also need to spend a minimum of the value of the Quidcode to get the full amount credited to your account as cashback.
Not a Quidco member? Sign up here and we'll split the £10 referral bonus when you earn £5, so you'll get a bonus £5 once you've hit that threshold!