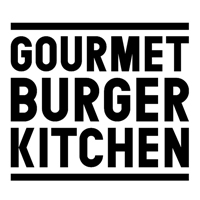 PayPal is currently running a promotion with Gourmet Burger Kitchen to give away 13,000 burgers to users (max 1 per person) who check in and pay using the PayPal app. The app is pretty simple to use, is available for all platforms (including WP7), and uses your existing login details.
I haven't redeemed this yet, but based on the terms and conditions, you need to accept the offer using the app, check-in with the app when you're in the restaurant, then tell the server that you're paying with PayPal. If you spend £6.75 or more (the price of their cheapest burger), you'll get £6.75 off.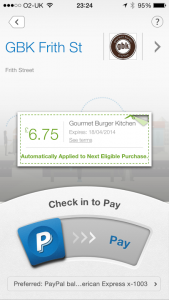 It appears that you can just open any GBK restaurant within the app now and click on the voucher to add it to your offers – would advise doing that to make sure you don't miss out on being one of the first 13,000. It'll then be "automatically applied to next eligible purchase". You'll then have until 17th April to redeem your offer.
Also, you should be able to use this offer with tastecard or other vouchers, so long as you spend over £6.75. That could potentially mean two free burgers.
Terms and conditions are only available in the app, but I've posted them here.