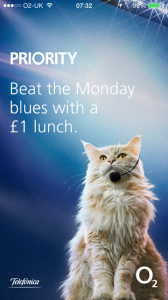 If you've got a mobile from O2 (or have one of their SIM cards to register the O2 Priority app), you can get a £1 lunch today (and every Monday) thanks to their Priority scheme (available as an app for Android and iOS, and as a web app for Blackberry and Windows Phone).
The lunches include a one-topping four slice pizza at Dominos, or a sandwich, crisps and drink at Upper Crust, Caffe Ritazza or Pumpkin (all stores found at your local railway station).
The offer runs from 11am to 3pm every Monday, and you'll need to use the app. There'll probably be a few queues too, so I'd avoid the main lunch hour if I were you.
Full terms and conditions for Caffe Ritazza, Dominos, Upper Crust and Pumpkin are available on the O2 rewards site.
Via Digital Spy
Edit: There's now an offer for a free hot drink at Caffe Nero every Friday.
You get this for your £1: