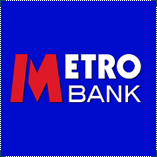 If you've got the Metro Bank account, you'll have received a letter informing you that they'll be charging for using your card outside of Europe: 1.9%, plus an additional £1 fee each time you use a cash point.
To be honest, this possibly shouldn't have come as a surprise. Visa (as does MasterCard, I believe) charge a 1% fee for handling non-EU transactions, and banks that offering 0% were simply absorbing that fee. In an age where profit margins (especially on current accounts) are being squeezed (and remember that Metro Bank is currently losing money), this was probably unsustainable.
What isn't great is the additional charges that have been placed above and beyond the 1% fee: Metro Bank will charge 1.9% for non-EU transactions, with an additional £1 fee for using a cashpoint. Whilst this is lower than many of the other banks (they usually charge around 3%), it's still 0.9% above and beyond what they're getting charged by MasterCard.
What's your alternative?
Norwich and Peterborough are still offering a current account that offers free overseas usage, but they come with usage rules or a monthly fee of £5 applies. You'll need to:
Pay in £500 a month, and:
Either make at least five transactions a month (you may be able to cycle money through there using standing orders), or keep a balance of £5000 in your account (this really isn't worth it, as it's a non-interest bearing account. If you kept it in a Lloyds Vantage or Santander 123 account at 3%, you'd be earning £10 a month after 20% tax)
Interestingly, their "light" account where you wouldn't have to pay in the £500 monthly is being withdrawn from tomorrow – I wonder whether this is in response to Metro Bank's new charges.
Personally, I'm lucky to still have the Santander Zero Current account, which is unfortunately closed to new customers, but the future of that account is probably also in question too.
This really isn't great news if you're travelling outside Europe after 18 March. It'll probably be cheapest to purchase travel money in advance of going abroad (try TravelMoneyMax from MSE for a comparison – usually the best rate is by prebooked your currency exchange and picking it up in London), and try to keep spending to one of the credit cards that offer better rates.