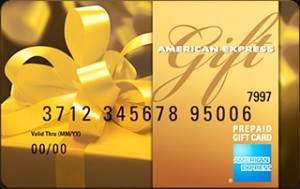 Many of American Express' cards come with an introductory offer or annual bonus – for example, the Preferred Rewards Gold card gives you 20,000 membership rewards points if you reach the £2,000 spending target in 3 months. The problem comes if you can't make that limit in a short time – you'll lose out on the bonus.
Here's where the Amex Gift Cards come in: you buy a gift card now, helping you to reach the target, yet giving you the flexibility to spend your money later. Additionally, until the end of the year, there's no issue or postage fees when you use the code GCNF1 on the online checkout.
How do I get it?
Go to the Amex prepaid website, and choose the amount of cards you want – you can buy up to 5, with a maximum value of £100.
Enter the code GCNF1 when you're checking out. You should see the postage charges disappear (the code doesn't cover gift wrap, so avoid that). Make sure to pay with your Amex, and you'll also receive the normal cashback/membership rewards points. From my past experience, this transaction has gone through as a normal purchase, rather than a cash transaction (which wouldn't give you any cashback/points).
Interestingly, it's the only place I've ever seen where you sign up with Amex SafeKey, the equivalent of Verified by Visa or Mastercard SecureCode.
What do I need to know?
There's a couple of caveats with this card: I only really recommend it if you're going to be short on your threshold spend, otherwise the rewards aren't really worth it…:
You must use these cards within a year of activation, or you'll pay a £1.50 monthly fee. You really don't want that to happen, so I recommend spending the money as soon as possible…
You won't be earning interest on the money on your card (although with interest rates currently at a historic low…)
Don't lose the card. If someone else finds it and forges your signature, you have no recourse
You have no chargeback rights with this card – don't use it for large purchases (not that you'll get very far, since the maximum load is £100…)
It's a magnetic stripe and signature card, so be prepared to sign (you need to wait for the assistant at self-service checkouts)
Since you're paying for the card in one go, you'll earn cashback on the full £100 – usually if you make a number of small transactions, you'll lose out on a few pence of cashback if your transactions aren't exactly divisible by £1 (or £4 on the Platinum Cashback one)
How do I use up small balances?
You can cash in the card by calling the customer services number for no fee (and they'll make a transfer of your remaining funds into your bank account), but I've found it much easier to just buy an Amazon.co.uk Gift Certificate for the exact amount and send it to yourself – they don't seem to make a £1 hold on your account (unlike PayPal), and you're bound to buy something from Amazon within a year!
Once your card is empty, you can just throw it away: you can't reload these cards at all.